10 Getting Ready Tips For Your Wedding Day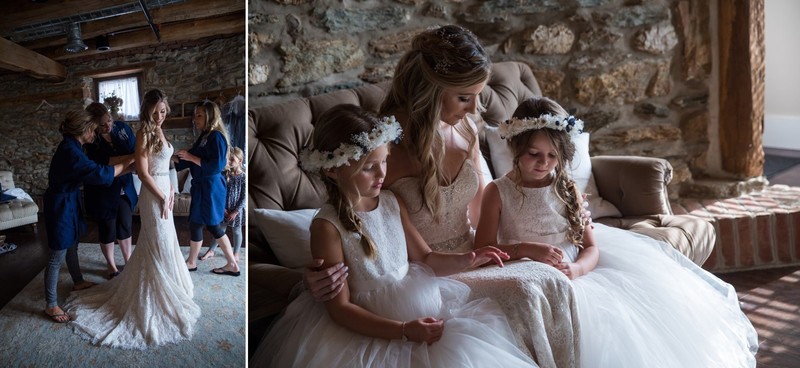 Take The Stress Out Of Getting Ready For Your Wedding
When planning your wedding day, most of your attention is typically focused on the venue, guest list, food, and decor. The "getting ready" part of the day sometimes gets put at the bottom of the list. We have organized a list of 10 tips that will help your wedding day start off on the right foot.
1. Choosing A Getting Ready Location
When deciding on the perfect location for you and your wedding party to get ready, natural light is your best friend. Try and choose a room with lots of natural window light.
Natural light will help your makeup artist as well. I recommend putting in a request with your makeup artist to have her/him do your makeup near a window so you can take advantage of the beautiful natural light. Once you are ready and getting into the dress, I will turn off all lamps/lights and make use of the natural window light. This will make your skin look amazing and keep that unattractive yellow/orange look from hitting your face and hair. I will give you my recommendation for the location to zip/button up the dress once I see the room.
If you are getting ready in a hotel room, this might be a great time to upgrade to a larger room. This will provide your hair and makeup team with lots of space. Larger rooms typically have more natural light as well.
Booking an Airbnb might be a fantastic option for you. You will be able to pick a place that fits your style and has a ton of room.
*Something to think about...if you are getting ready in a church, most of the time, the only rooms available are the robe room/closet or the nursery. Getting ready rooms in churches are typically very cluttered, with very bad light. I highly recommend booking a hotel room or Airbnb close by, as a better option.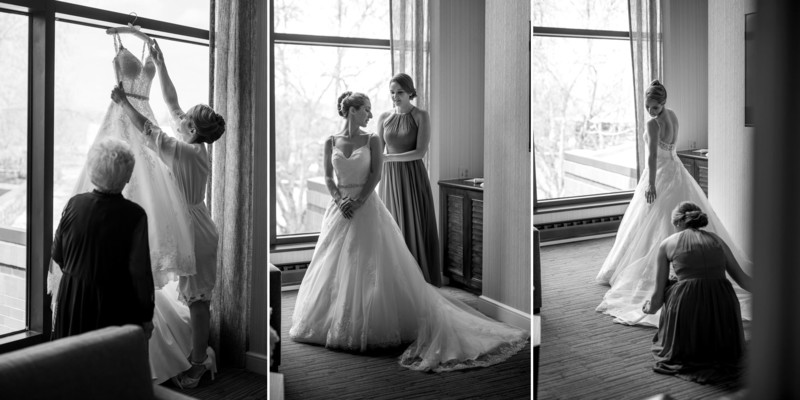 2. Hair and Makeup
Hair and makeup are where I see the most delays on a wedding day. My biggest recommendation is to figure out when you want to be finished, and then tell your hair/make up team that you want to be finished 30 minutes before that (45-60 minutes before if you have a large bridal party and other family members getting hair and makeup). For example, if you would like to be ready at 12pm, tell them you need to be ready at 11am or 11:30am. If there ends up being a delay (it is VERY common), you still get done on time. If there is no delay, you are ready a little early and you can sit back with your girls and relax for a bit before getting into the dress (this allows time for more fun candids). This is in no way a discredit to your makeup/hair team. Often, the delays come from bridal party members who truly, but unexpectedly need something to be changed. We just want to set you up for success.
One other recommendation is to have the bride get makeup done in the middle. Don't go last. The middle is where you want to be in case the schedule is running behind. Plus you want to be make up ready for a good part of the candid photos. If the bride goes last, she will be the only one without making for the majority of the candids.

3. What Should You Wear?
One question we get asked frequently is "what should we be wearing in getting ready photos?" Doing a quick search on Pinterest will give you hundreds of fun ideas.
Here are a few tips when choosing your getting ready outfits:
We recommend going with robes or button down pajama tops. This way you do not need to pull anything over your head after your hair and makeup are finished.
You (the bride) should wear a different color than the bridesmaids.
This is a great gift idea for the bridesmaids, if you need one.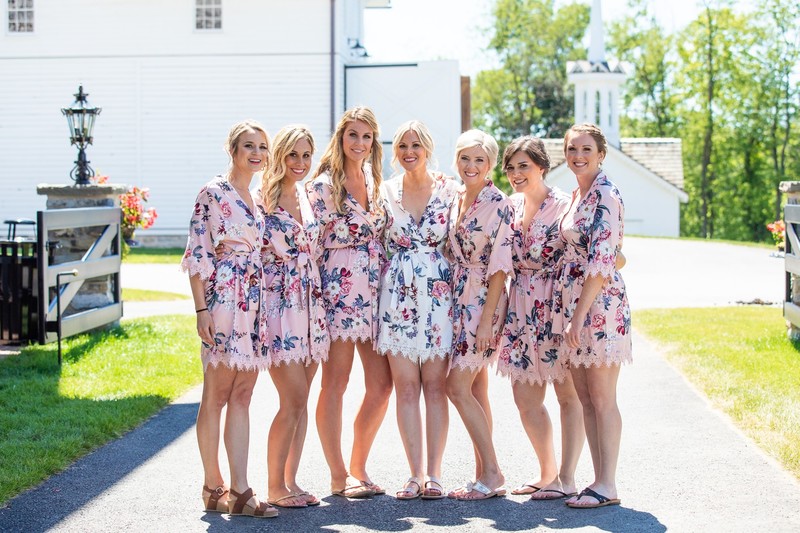 4. Wedding Details
One of the first things we will do when we arrive on the morning of the wedding is photograph your details. We recommend gathering up all of the items that you want included in the photos, before we get there (this is a great job for one of the bridesmaids). Bring a small box or bag to keep everything in. This way we can get right to work. It also ensures that nothing gets missed.
Many brides want a nice photo of the wedding dress hanging on the door or in a window if one is available. Our advice is to ditch the plastic hanger and buy a nice satin hanger or a classic wood hanger. Another option is to have a specialty hanger made with your new last name and wedding date.
Here are a few common wedding details that brides love to have photographed (you only have to include what is important to you):
The wedding dress
Bouquet
Rings (both bands and engagement ring)
Invitation
Perfume
Shoes
Earrings
Necklace
Bracelet
Garter
Something old, new, borrowed, blue
* Ask your florist to bring a few extra blooms and greens. This way we can use them when styling your wedding day details.
If you would like both rings plus your engagement rings photographed together, you will want all of the rings in the bride's getting ready room. Once we are finished taking photos of them, we will help one of the bridesmaids get the rings to the best man (or whoever is going to be in charge of them).

5. Getting Into Your Wedding Dress
Photos of the bride being helped into her dress are one of the most requested moments of the wedding day. We recommend that anyone helping you is dressed before you (about 20 minutes before you plan on getting into the wedding dress would be perfect).
When planning out your timeline, try to be realistic about how long it will take. Is the back of your dress a quick zip up, or are there 75 tiny little buttons? It's always best to give yourself more time than you think.
Bonus tip: Take the person who is helping you into the dress, with you to the final fitting. This way you can both see what is involved, and how long it will take.

6. Exchanging Gifts
Some couples like to exchange gifts before they see each other on the wedding day. If this is something that you plan on doing, we would love to get some photos of you opening them. We recommend that you do this after your hair and make up are complete. For the bride, you can open the gift just before or just after you get into the dress. For the groom, the photos will look best if we do it after you are in your suit or tux.
7. Keep It Clean
On the morning of the wedding, clutter can add up fast in your getting ready room. Here are a few tips to help you keep the room clean:
Book a 2nd room to store belongings.
Use the room of a bridesmaid or family member to keep your extra bags.
If using a 2nd room is not an option, designate a corner and closet for all of the bags and clutter to go. We recommend picking a corner that is closest to the door. We will want to use the window area for photos.
Bring a garbage bag as part of your bridal kit (more on that coming later). This way we can get rid of all the trash right before you get into the dress.
The night of rehearsal, put a bridesmaid in charge of keeping the room picked up (one who can "gently" remind the other girls to pick up).
If getting ready at a hotel, ask the hotel staff to deliver the food on a rolling cart (or at least a large tray). This way the entire thing can be moved into the hall easily before getting into the dress.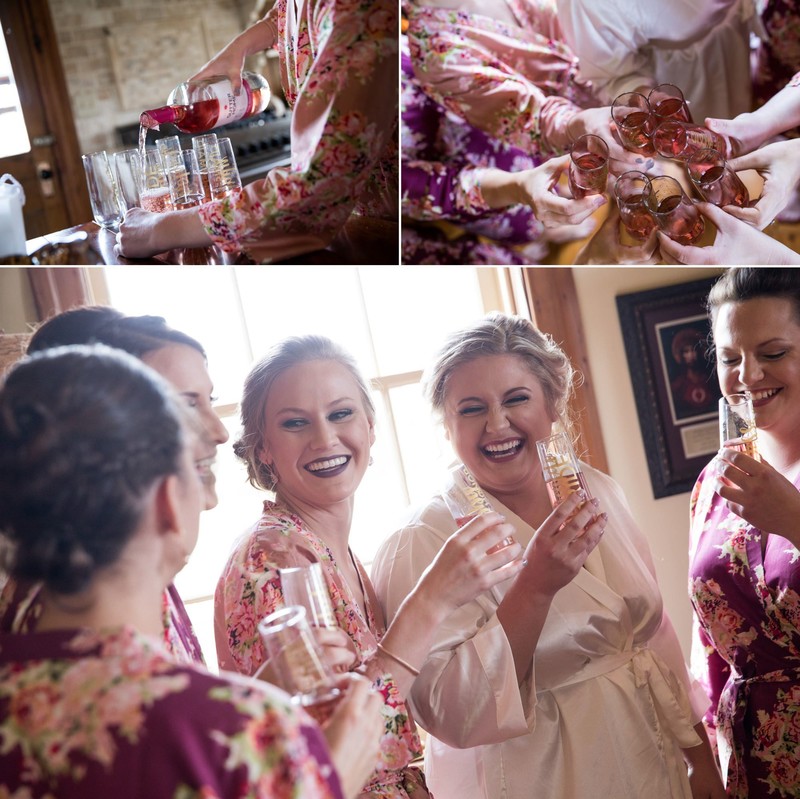 8. Food For Thought
Let's be honest, eating plenty of food and drinking enough water the morning of the wedding is probably the last thing on your mind. It's best to plan this out ahead of time. One recommendation is having a platter of bagels, fruit, cheese, and crackers delivered the morning of the wedding. These items can be grabbed in small amounts and do not require utensils.
Have lots of bottled water in the room as well. It is really important to stay hydrated on the wedding day.
If you are getting ready in a location that does not provide food delivery, this is a great job for a dad or brother to take care of. It will keep them busy and they will love to feel included.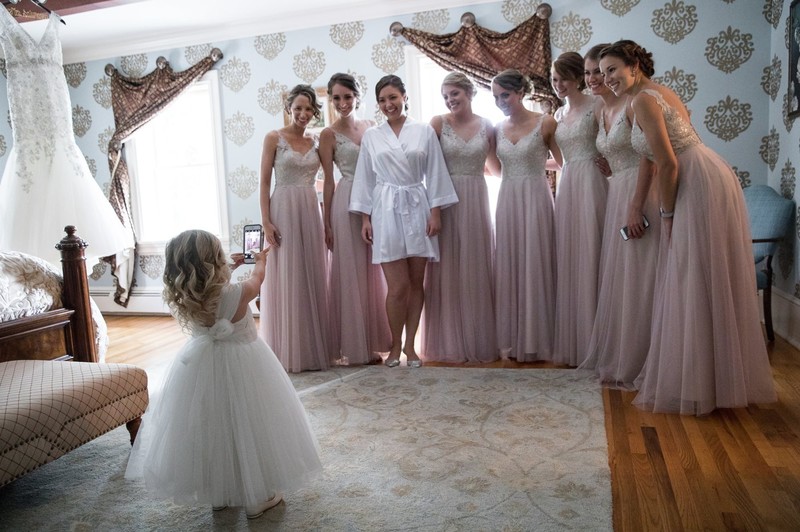 9. Just One Of The Guys
Telling the story of the wedding day would not be the same without getting awesome photos of the groom and his groomsmen. Here are a few fantastic tips for the groom and groomsmen:
Gather all of your details for your photographers (shoes, tie, cuff links, watch, etc...). We will take a few stylized photos of these items before and as you put them on.
Plan on having a toast with the guys after you are dressed (cool mugs/flasks could make an awesome groomsmen gift).
Eat plenty of food and drink plenty of water the morning of the wedding.
Remove cell phones and keys from pockets before posed photos.
Learn how to tie a tie, fold a pocket square, and put on cuff links a few days BEFORE the wedding. If you are doing real bow ties, this is a must. We have seen weddings get delayed by 30-40 minutes because it was found out at the last minute, that nobody knew how to tie a bow tie. If you only listen to one tip from this list, follow this one.
Plan on doing something fun with guys the morning of the wedding (golf, skeet shooting, poker, a game of Madden NFL 19, etc...). We would love to get photos of this for you.
Fun socks can make for a great gift for the groomsmen. Choose socks that fit your personality (sports teams, superheros, camo, animal print, or just a cool pattern/color that goes with your wedding colors)
Carry a white cotton handkerchief for the ceremony. If it's hot and humid, it will be nice to have something to get rid of the sweat. Put it in your right pocket so it doesn't show in ceremony photos.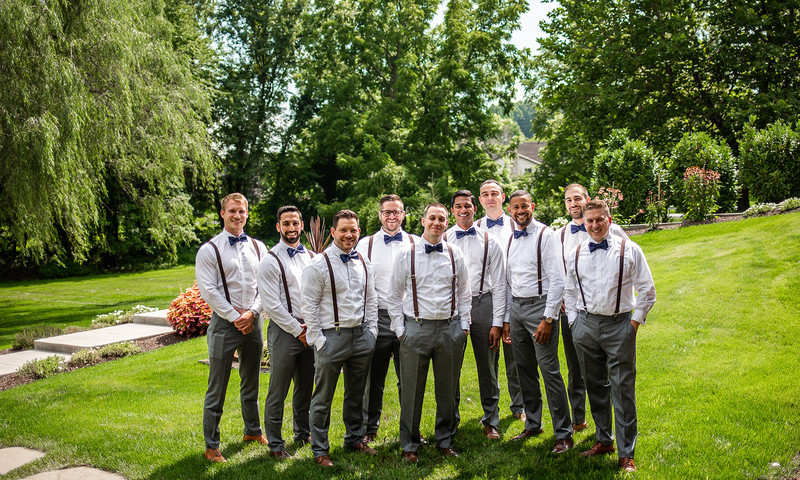 10. A Note For The Wedding Party
Hello wedding party! A quick message for you before the wedding day. You are never, ever in our way. Remember those words. We want you to move around the room and pretend we are not there. If you are watching the bride get makeup or hair done you might see us standing right next to you taking photos. You are not in our way. Please don't feel like you need to move. In fact, you are making the photos look awesome. Chances are we are using you as foreground in the photos. It adds to the candid feel of the images. We challenge you to get in our way the entire day! We can't wait to work with you!
If you are not already following us on Instagram, you can do that here. We post daily and this is where you will see the first teasers from the wedding day.
Check out our wedding day timeline tips to make sure you get the most out of your time on the wedding day.